Oracle Primavera Cloud (OPC): Basic Training
Starts 20/12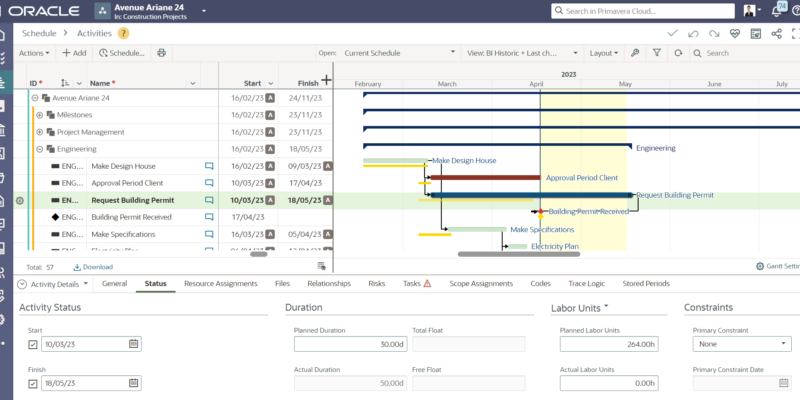 Proove has decades of experience with the implementation and training in the use of Primavera. This training has been developed together with our planning engineers and technical consultants. Good planning is much more than just "bar racking".
The teachers are real professionals, who work as planners everyday, so they have an extensive knowledge of Primavera and planning in general. They take their time to explain everything in detail and focus on aspects that are important for you or your organization.


Why this training?
As project controls professionals we know that scheduling is not just drawing bars on a timeline. It's breaking down your project in work packages, adding the right level of detail to activities, adding the resources needed to execute these activities, defining the (sub-)critical path(s), setting up the right procedures and especially making the right analyses.
Primavera P6 has been the undisputed champion of scheduling tools for a long time. Recent years, Oracle Primavera Cloud or OPC is starting to take over the leading market position. We teach you the correct usage of this tool.

Learning Goals
Properly handle the software and know which elements are essential to have a good planning.
Create a planning by yourself including activities, relationships, schedules and progress based on different cases that are interwoven in the manual.

Sections
Collaborating with colleagues and subcontractors or clients via Oracle Primavera Cloud
Create Workspaces, Projects and a Work Breakdown Structure
Create activities and relationships
Scheduling
Calendars and constraints
Codes and configured fields
Views and filters
Roles, Resources and Levelling
Baselines and scenarios
Introduce and analyze progress
Multi-project scheduling
Schedule check

Learning method
This is a classroom training with exercises.

Target Audience
Anyone who wants to up their game in scheduling using Oracle Primavera Cloud.
Get in touch with our Lead Academy